Important Notices
Currently not on sale.
Release date to be announced later.
Features

【High power motor】Compared with the competitor's mini grinder, most powerful high torque motor does not decrease rotational speed even under the load, and increase the work efficiency.
【Lightweight slim body】Lightest body, better control compared with 100mm grinder. 49mm diameter grip with easy-to-hold shape and anti-slip textured surface.
【Compact head】Compct head enables wheel to reach narrow space! Low head design, height of the head is only 33mm.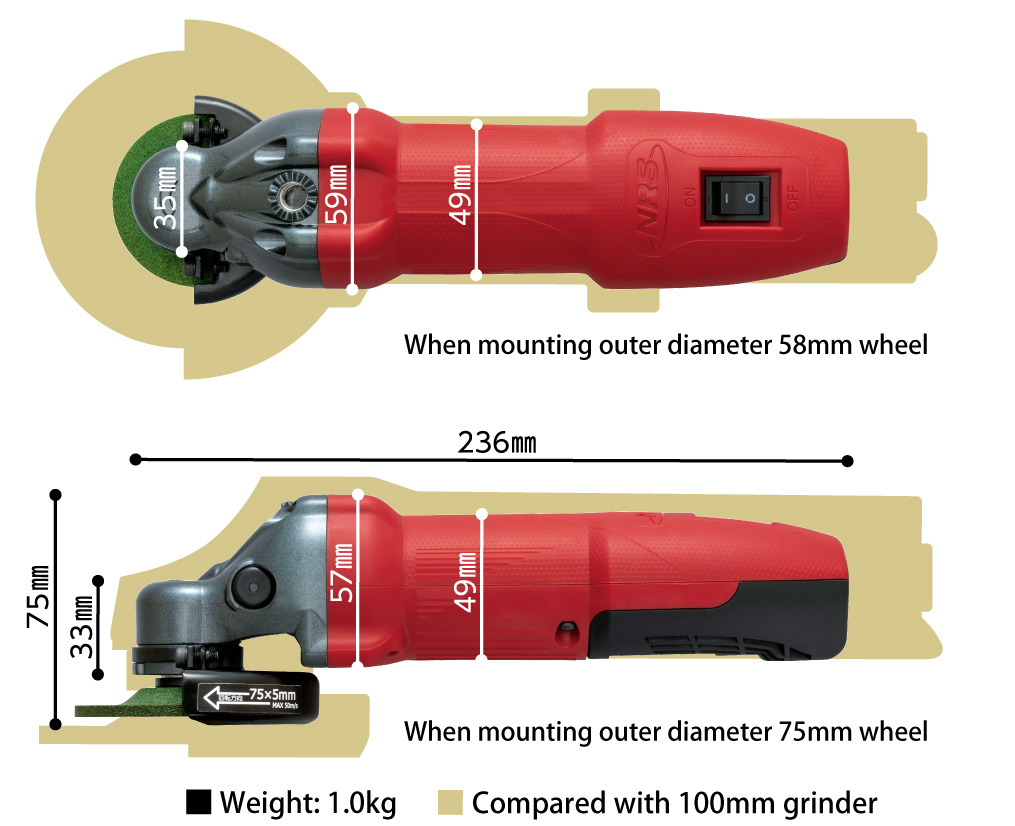 Example of use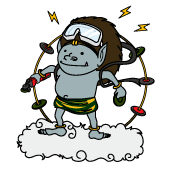 Effective in grinding, polishing and cutting at narrow space.
RAIJIN SLIM and Mini series enables to easily and efficiently grind "inner surface of C Channels" and "corner" which hard to grind by 100mm grinder.
Small diameter wheel for mini grinder, disc series
We have a wide variety of products such as grinding wheel, finishing wheel and cutting wheel.
Specifications
Part No.
GR-M58(75)RS
Grinding wheel diameter
58×3.5×9.53 mm
75×5×9.53 mm
Power source
50/60 Hz
Rated voltage
100 V
Power consumption
400 W
No-load speed
10,000 min-1
Basic machine mass
1.0 Kg
Overall length
236 mm
Grip Diameter
49 mm
Dual insulation,Dust filter is equipped as standard.
Diagram and Parts List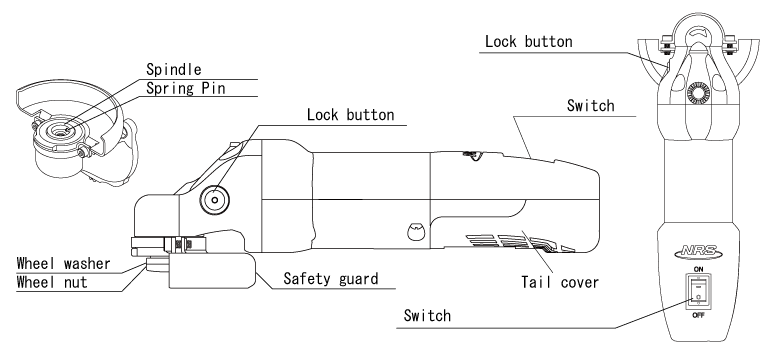 ---
Specification including appearance may change without prior notice.
Article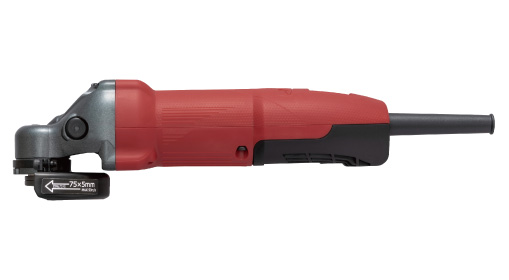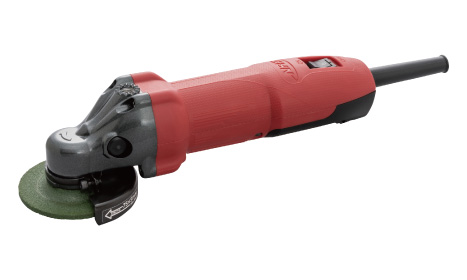 Package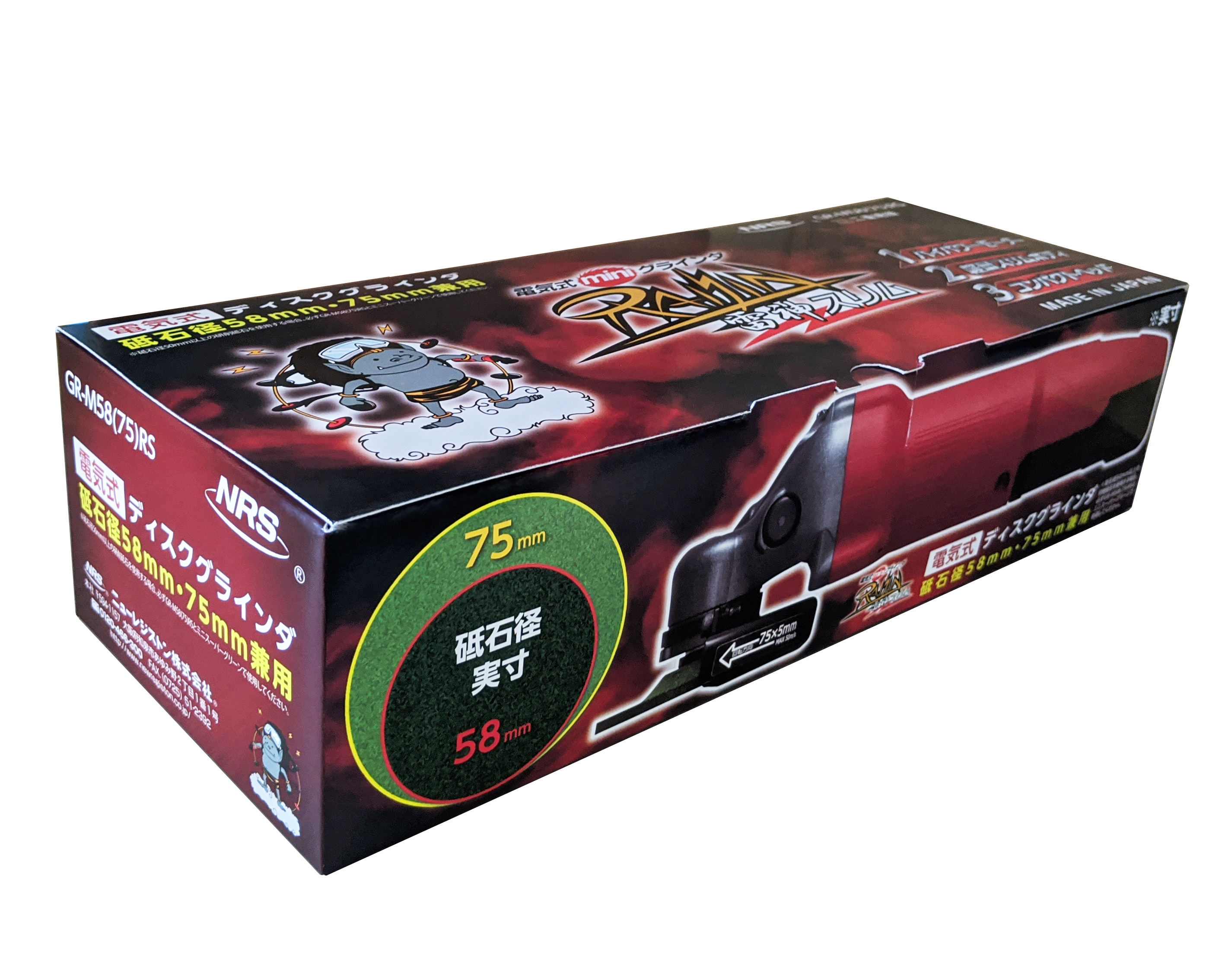 Attachment
Safety Guard for 58mm wheel
Safety Guard for 75mm wheel
(Attach to main body)
Wheel Nut for 58mm wheel
Wheel Nut for 75mm wheel
(Attach to main body)
Wheel Washer for 75mm wheel
(Attach to main body)
Adaptor for 58mm wheel
Please attach the adapter as needed,
when using the 58mm wheel.
Hexagon wrench
(opposite side distance 3mm)
for safety guard removal
Hexagon wrench
(Opposite side distance 5mm)
for wheel nut replacement
Included samples
【New release】
MINI BLUE CERAC Depressed Center Type 75φ #36 1PCS
Optional accessories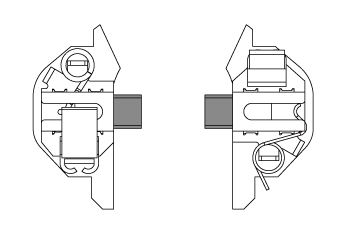 | | |
| --- | --- |
| Part No. | GRRSCBH |
| Product name | Carbon brush holder |
Optional accessories for cutting
Please use ptional accessories for cutting, when you use cutting wheels with electric mini grinder "RAIJIN SLIM".
There is groove on wheel washer and wheel nut for cutting mark.
Outer dia. 58mm
Outer dia. 75mm
【For RAIJIN SLIM】
safety guard for 58mm wheel
*Coming soon
【For RAIJIN SLIM】
safety guard for 75mm wheel
*Coming soon


【For mini grinder 】
wheel nut for 58mm wheel
Part No.:GRSHN-58


【For mini grinder 】
wheel nut for 75mm wheel
Part No.:GRSHN-75
N/A

【For mini grinder 】
wheel washer for 75mm wheel
Part No.:GRSHW-75
How to Replace a Carbon Brush Holder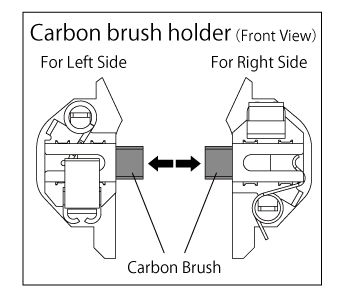 1.Open the tail cover using a screwdriver, then take the carbon brush holder straight up to remove it from the machine. (Figure1)
2.Unplug the connection terminals of wiring [blue] and [yellow], and replace right and left sides with a new carbon brush holders.
Insert the connection terminals in the reverse order of the above. (Figure2)
3.Push the carbon brush into the machine.
Make sure the carbon brush holder is mounted securely and close the tail cover. (Figure3)
*When replacing the carbon brush holder, replace both the right and left sides.

Precautions
Hold the machine body firmly and turn on the machine. Electric tools recoils when turned on.
Hold the machine body firmly when turning on the machine. Be careful not to drop the machine. Always perform a test run in a safe place before use and get used to the recoil at the startup.
Please be sure to use Mini Super Green with "RAIJIN SLIM".
Please use safety guard (optional part), wheel nut (optional part) and wheel washer (optional part, only for 75mm wheel), when you use Theta Mini with GR-M58(75)RS.
Please read instructions carefully before use.
These products are made for Japanese market,cannot be purchased or used outside Japan.
Use outside Japan may not be able to deliver original performance. Also, No repair service or warranty are available outside Japan.
Downloads